Top 10 Costume Ideas for 2018
Halloween is in six days! Here are my top 10 favorite ideas for costumes! Many costumes can be with a group (including your family!) or single person.
10. M&M's
Fun to be, not to eat. People are not chocolate, so don't bite (vampires excluded).
9. Crayons
Ever wanted to be a color? Well, now you can! With the common technology available to you, you can become your favorite Crayola color! Don't worry, there's only at least 152 colors to choose from.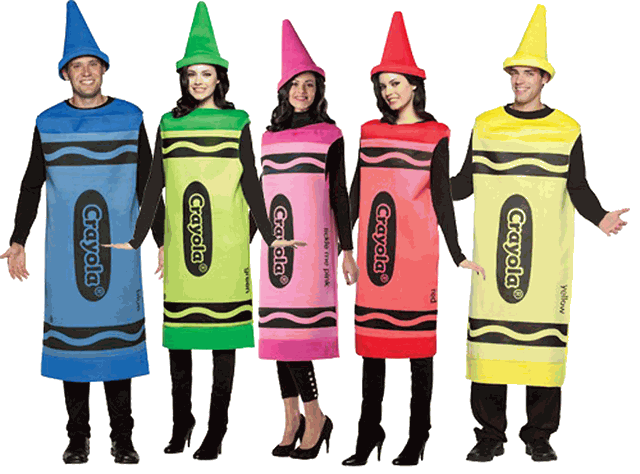 8. Scooby-Doo Characters
The only mystery around here to solve is "Where did all the candy go?" Disclaimer: your dog cannot actually speak.
7. Inflatable Dino
You KNOW you would wear this, not just on Halloween, so go get one! Tell your friends you are doing a Broadway version of Jurassic Park and just start singing.
6. Fairy Tale / Storybook Characters
Do you get drawn into a book whenever you are reading it? Do you wish you could be a princess? Well, gentlemen, now is your chance. YOU are the fairest in the kingdom now.
5. Animals
Lions? Tigers? Bears? Impostors?
4. The Addams Family Members
We all know that one family who is the living and breathing Addams Family. Trying to out-creep them is the best chance at survival, so become their inspiration.
3. Monsters Inc. Themed
Great for Disney theme, groups, singles. Now, go hide in your neighbors closets and roar. Once they open the door, run.
2. Renaissance Themed
Ladies and gentlemen! Lords and ladies! I present to you, magic, mystery, and violence! Please do not actually hurt anyone. We cannot pay for the damages.
1. ANYTHING YOU WISH TO DRESS UP AS
Halloween is the time to dress up as anything and everything you wish to be. Have fun!